The groovy country music of the Americana-influenced Slackerville Zoo oftentimes makes the crowd start dancing. Their performance is dynamic hence the band members take turns both when it comes to composing songs and singing the lead parts. Sometimes there are three parts in the choir and sometimes there is a squeaking harmonica, all contributing to the boom-shack country style of Slackerville Zoo.
Lately the up and coming band has been playing festivals, parties and other venues. The list is extensive and varied and both Söderslätts Countryfestival, Hultsfred, KB (in Malmö) and Holger Danske bar in Helsingör have stages stomped by the feet of the slackers.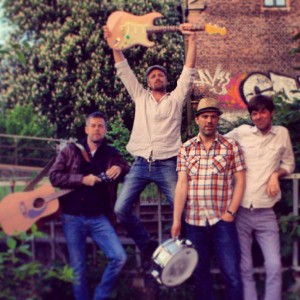 The largest part of the repertoire consists of original material. Since all members of the band compose, the style of Slackerville Zoo never gets static. However there's a clear direction towards the West. Some well-chosen covers makes the crowd feel right at home.
Slackervilla Zoo is Mats, Sebatian, David and Henrik. The composition of the band is contemporary with two guitars, electric bass and drums. Mats is picking on his Telecaster while David has more guitars. Sebastian is the multitasking one. He is able to slap the bass while he's blowing on his harmonica at the same time! Henrik is shaking and hammering away whatever he reaches, keeping the rest of the band busy making sure he has a lot of stuff to hit.